Artificial Grass Geelong
When it comes to enhancing the beauty and functionality of your outdoor spaces in Geelong, Amazing Turf is your trusted source for premium artificial grass solutions. Whether you have a small balcony or a sprawling backyard, we provide the perfect answer to all your artificial turf needs. Our commitment to excellence extends from supplying high-quality artificial grass to offering top-notch installation services. Connect with us to learn more about artificial grass in Geelong.
Artificial Grass Installation Service in Geelong
Our artificial grass installation service in Geelong is designed to transform your outdoor areas into stunning, low-maintenance havens. We understand the unique requirements of Geelong's climate, and our experienced professionals ensure that your artificial grass is installed to perfection.
From precise ground preparation to the final finishing touches, our installation process is thorough and meticulous. We take care of all the details, so you can enjoy a lush, green lawn that looks and feels like natural grass, without the hassle of maintenance. Our artificial grass is resilient and can withstand Geelong's variable weather conditions, ensuring that your outdoor space remains beautiful all year round.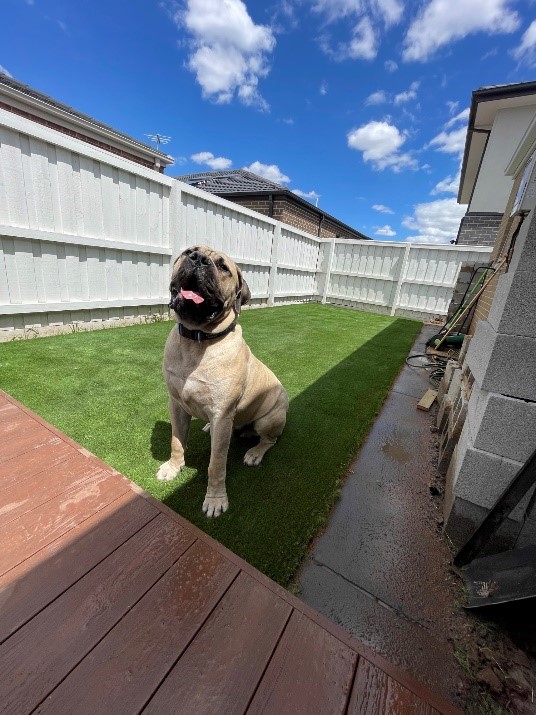 Discover the Amazing Possibilities of Artificial Grass
Choosing artificial grass for your Geelong property opens up a world of possibilities. It eliminates the need for time-consuming lawn care tasks such as mowing, watering, and fertilizing, allowing you to reclaim your weekends and enjoy your outdoor space without the stress of upkeep.
Our artificial grass is engineered to withstand heavy rainfall, extreme heat, and even frost, making it a reliable choice for Geelong's ever-changing weather. With minimal maintenance, you can have a consistently vibrant and inviting lawn that stays green throughout the seasons.
Moreover, our artificial grass is eco-friendly. It reduces water consumption, eliminates the need for harmful pesticides and herbicides, and minimizes carbon emissions from lawn maintenance equipment. By choosing artificial grass in Geelong from Amazing Turf, you're making a sustainable choice that benefits both your property and the environment.
The Cost of Artificial Grass in Geelong
Wondering about the cost of artificial grass in Geelong? At Amazing Turf, we offer competitive pricing to suit various budgets. The cost of artificial grass can vary depending on factors such as the size of your area, the type of artificial grass you choose, and any additional features or services you require.
We believe in transparency, and we will provide you with a detailed quote that outlines all the costs involved. Our goal is to offer you the best value for your investment, ensuring that you get a beautiful and long-lasting artificial grass solution that enhances the value of your Geelong property.
Need Help with Artificial Grass in Geelong?
If you're ready to explore the benefits of artificial grass in Geelong or have questions about our products and services, don't hesitate to reach out to Amazing Turf. Our team is here to assist you every step of the way. We can provide expert guidance, answer your inquiries, and help you choose the perfect artificial grass solution that aligns with your specific needs and preferences.
Experience the remarkable transformation that artificial grass can bring to your Geelong property. Contact Amazing Turf today, and let us help you create an outdoor space that's not only stunning but also hassle-free and environmentally conscious.
Do you provide artificial turf installation services in Geelong?
Yes, we provide top-quality artificial turf installation services in Geelong. Our experienced team ensures a seamless and high-standard installation for residential lawns, commercial spaces, or sports facilities. With attention to detail, we guarantee a lush, easy-to-maintain, and beautiful turf in your Geelong space.
What artificial turf installation services do you offer in Geelong?
In Geelong, we cater to a broad spectrum of artificial turf installations, from private backyards to large sports grounds and commercial spaces. Our Geelong-based team is equipped to manage both small and large-scale projects, ensuring top-quality installation tailored to your specific needs.
Do you offer specialized pet friendly artificial turf services in Geelong?
Yes, we proudly offer our range of pet friendly artificial grass specifically tailored for Geelong's unique climate and outdoor spaces. Understanding the local environment allows us to provide the best possible solutions for pet owners in Geelong, ensuring a perfect fit for their specific needs and the regional conditions.
Still have questions? We're here to help!
We understand that choosing the right artificial or synthetic turf is a big decision. If you still have questions or need more information, we're here to help every step of the way.
Call the experts or Book an Appointment
Thank you for considering Amazing Turf. Your green oasis is just a call away!
Areas We Serve
Amazing Turf is delighted to offer out top-tier artificial and synthetic turf services across various locales, including Hoppers Crossing, Williams Landing, Werribee, Wyndham Vale, Manor Lakes, Point Cook, Tarneit and Truganina. We're committed to enhancing your outdoor spaces with our durable, high-quality turf, no matter where you're located in these areas. Trust us to bring excellence right to your doorstep.