Has been involved in the Synthetic Turf industry for over twenty years. A common and increasing issue has been Pet urine and odour building up on the synthetic surfaces over time.
Why Does this happen?
When an animal urinates on artificial grass, the urine typically settles in the crushed rock base and the backing mat of the synthetic turf.
Once urine dries, it crystallises forming uric acid crystals which is the source of the urine odour. Uric acid crystals are difficult to remove, simply flushing with water or using vinegar etc will only mask this smell for a brief period of time.To eliminate the issue at the source you need smellBgone. We have developed products which specifically treat the issues of pet urine odour, our liquid sprays and the granular infill for synthetic turf.

Products consist of the smellBgone liquid – Outdoor concentrate and the smellBgone PLUS stain & odour remover.
smellBgone liquid – outdoor concentrate is recommended for use on large outdoor surfaces such as synthetic turf, concrete, tiles and paving permanently removing urine odours. It comes in a concentrate form which is simply diluted into a pressure sprayer or watering can applied to the impacted surface.

smellBgone PLUS 
Will remove stains and odours caused by cats, dogs and humans on most surfaces including carpets, furniture, paving and synthetic turf. Leaving a safe, healthy, clean smelling environment.
smellBgone PLUS uses plant enzymes for faster action, it penetrates uric crystals to remove & eliminate urine odour, it is environmentally friendly – non-toxic and bio-degradable, it is certified organic – no harsh chemicals, is Vegan friendly & Not tested on animals and best of all is Australian made.
For the best Artificial Turf Pet Deodorizer in Melbourne and Geelong call the team at Amazing Turf on 1300 680 817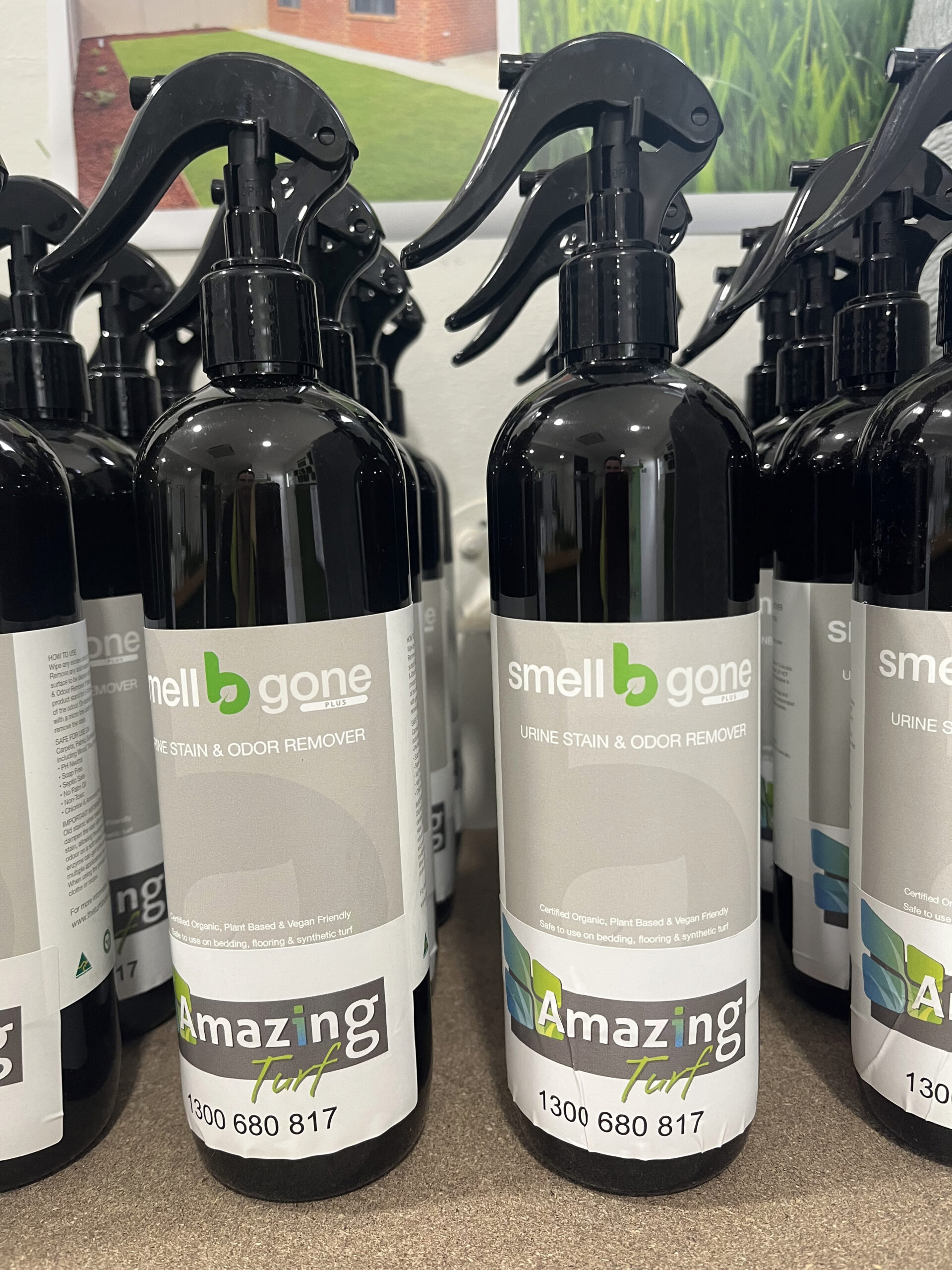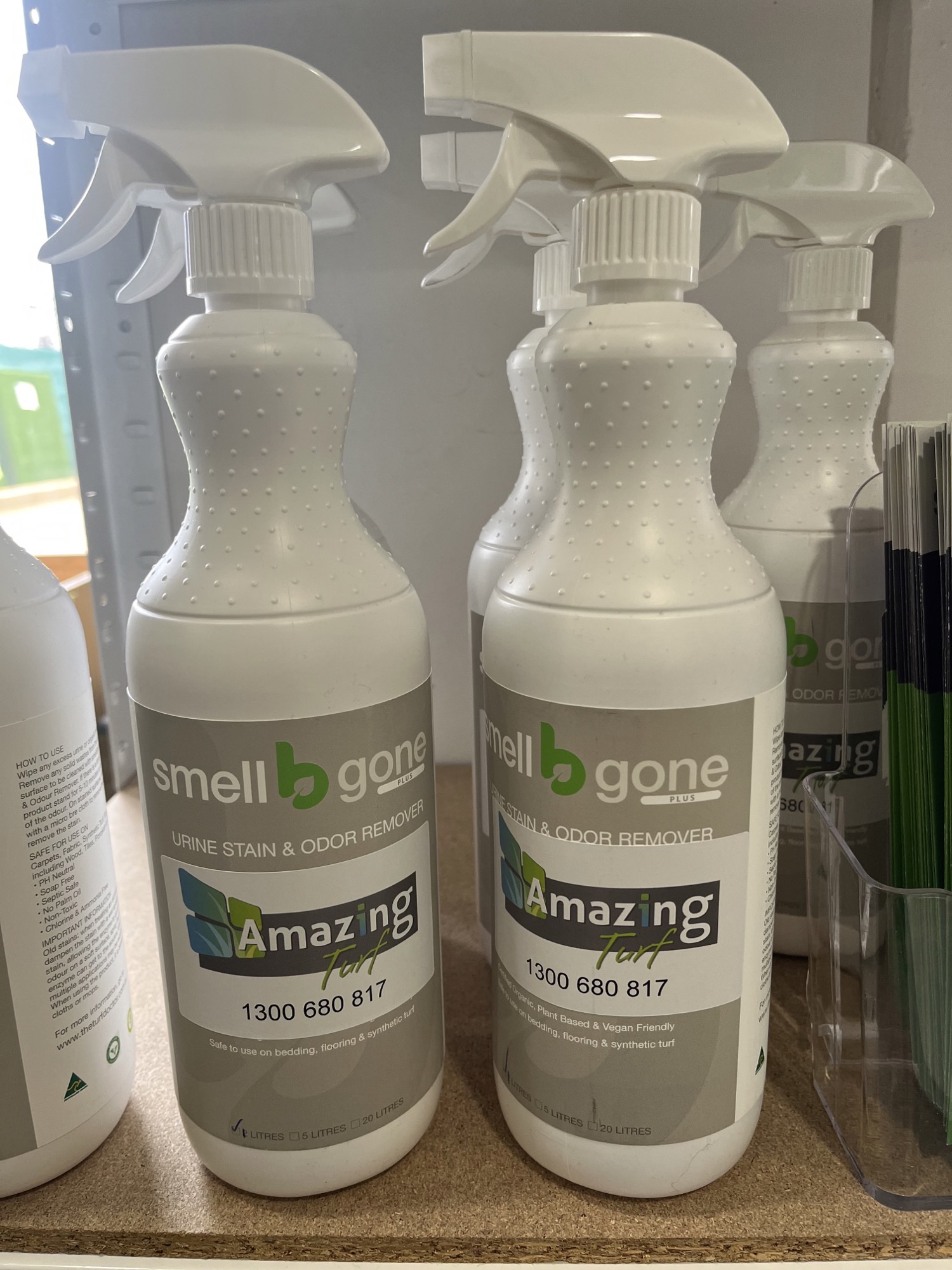 1. What is smellBgone?
SmellBgone is a range of pet deodorizer products designed to address and eliminate pet urine odour on synthetic surfaces, such as synthetic turf, concrete, tiles, and paving. It includes liquid sprays and granular infill specifically for synthetic turf.
2. What products are available in the smellBgone pet deodorizer range?
The range includes the smellBgone PLUS stain & odour remover and the smellBgone liquid – Outdoor concentrate. The PLUS variant removes stains and odours caused by pets and humans on various surfaces, while the Outdoor concentrate is recommended for large outdoor surfaces.
3. Can smellBgone be used indoors?
Yes, smellBgone PLUS is suitable for indoor use as it effectively removes stains and odours on surfaces like carpets and furniture, leaving the environment clean and fresh smelling.
4. Can smellBgone be used on all types of synthetic turf?
Yes, our pet deodorizer is suitable for use on various synthetic turf types and other surfaces, effectively removing urine odours permanently.
5. How long does it take for Pet Deodorizer to work?
SmellBgone products work quickly due to their plant enzyme formulation, offering fast-acting odour elimination. For specific application instructions and timing, refer to the product label or consult our team.
For any additional inquiries or further assistance, please contact Amazing Turf at 1300 680 817. Our team is ready to provide the best artificial turf pet deodorizer solutions in Melbourne and Geelong.