Artificial Grass Hoppers Crossing
When you are thinking about enhancing your outdoor areas in Hoppers Crossing, there's no need to search beyond Amazing Turf. We are your reliable provider of top-tier artificial grass solutions, suitable for various spaces, whether it's a small balcony, a cosy courtyard, or a spacious backyard. Our dedication to delivering excellence encompasses both the supply of top-quality artificial grass and the provision of exceptional installation services. Check out our artificial grass in Hoppers Crossing today.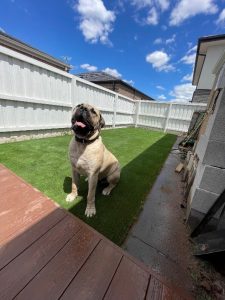 Expert Installation Service for Artificial Grass
Our team of experienced professionals specialises in delivering expert installation services for artificial grass in Hoppers Crossing. We understand that a flawless installation is crucial to achieving the best results with artificial grass. From meticulous ground preparation to the final finishing touches, we take care of every detail to ensure that your artificial grass looks and feels like natural grass.
Our artificial grass is designed to withstand the local climate conditions in Hoppers Crossing, ensuring that your outdoor space remains inviting and beautiful all year round. With minimal maintenance required, you can enjoy the lush greenery without the hassle of mowing, watering, or fertilising.
Discover the Benefits of Artificial Grass in Hoppers Crossing
Choosing artificial grass for your Hoppers Crossing property brings a host of benefits. It eliminates the need for time-consuming lawn care tasks, giving you more free time to enjoy your outdoor space. Artificial grass is a practical solution for Hoppers Crossing's variable weather, as it can endure heavy rainfall, extreme heat, and even frost, maintaining its vibrancy throughout the seasons.
Moreover, our artificial grass is eco-friendly. It reduces water consumption, eliminates the need for harmful pesticides and herbicides, and minimises carbon emissions associated with lawn maintenance equipment. By opting for artificial grass in Hoppers Crossing from Amazing Turf, you are making an environmentally conscious choice that benefits both your property and the planet.
The Cost of Artificial Grass Installation
Curious about the pricing for artificial grass installation in Hoppers Crossing? At Amazing Turf, we provide competitive rates that accommodate a variety of budgetary needs. The overall cost may fluctuate based on variables like the dimensions of your space, the specific artificial grass variety you choose, and any additional enhancements or services you might desire.
We prioritise transparency and will provide you with a comprehensive quote that outlines all the associated costs. Our goal is to offer you the best value for your investment, ensuring that you receive a beautiful and long-lasting artificial grass solution that enhances the value of your Hoppers Crossing property.
Find Out More About Artificial Grass in Hoppers Crossing
If you're enthusiastic about discovering the multitude of advantages that artificial grass can bring to your property in Hoppers Crossing or if you have any queries regarding our products and services, don't hesitate to get in touch with Amazing Turf. Our knowledgeable team is available to support you at every stage of the process. We can offer expert guidance, address your questions, and assist you in selecting the perfect artificial grass solution that aligns with your specific requirements and preferences.
Experience the remarkable transformation that artificial grass can bring to your Hoppers Crossing property. Reach out to Amazing Turf today and let us assist you in crafting an outdoor space that is not only visually stunning but also low-maintenance and environmentally friendly.
Do you provide artificial turf installation services in Hoppers Crossing?
Yes, we offer premium artificial turf installation services in Hoppers Crossing. Our team of experts ensures a smooth and high-quality installation for residential properties, commercial areas, or sports facilities. We focus on detail to guarantee a lush, low-maintenance, and attractive turf in your Hoppers Crossing location.
What types of artificial turf installation services are available in Hoppers Crossing?
In Hoppers Crossing, we cover a wide range of artificial turf installations, suitable for private gardens, extensive sports fields, and business settings. Our team based in Hoppers Crossing is adept at handling both modest and large-scale endeavors, promising a top-tier installation that meets your individual requirements.
Do you offer specialized pet-friendly artificial turf services in Hoppers Crossing?
Yes, we offer a selection of pet-friendly artificial grass specifically designed for the unique climate and outdoor environments of Hoppers Crossing. Our understanding of the local area allows us to provide optimal solutions for pet owners in Hoppers Crossing, ensuring a product that suits their specific needs and the area's climatic conditions.
Still have questions? We're here to help!
We understand that choosing the right artificial or synthetic turf is a big decision. If you still have questions or need more information, we're here to help every step of the way.
Call the experts or Book an Appointment
Thank you for considering Amazing Turf. Your green oasis is just a call away!
Areas We Serve
Amazing Turf is delighted to offer out top-tier artificial and synthetic turf services across various locales, including Hoppers Crossing, Williams Landing, Werribee, Wyndham Vale, Manor Lakes, Point Cook, Tarneit and Truganina. We're committed to enhancing your outdoor spaces with our durable, high-quality turf, no matter where you're located in these areas. Trust us to bring excellence right to your doorstep.