Artificial Grass Installation
Amazing Turf offers artificial turf installation that is suitable for a range of requirements. Whether you want to create a temporary grassy area at your rental property, or you want somewhere to practice golf putting, Amazing Turf can help from selection to installation. We have a highly skilled team of artificial grass installation experts who have years of experience in the industry.
If you need help choosing from our range of synthetic turf supplies, our friendly team are ready to assist. Once you've selected the perfect grass, one of our knowledgeable installation technicians can skilfully install your product giving you the beautiful lawn you've always dreamed of. When it comes to synthetic grass installation, Amazing Turf guarantees reliability and flexibility. We understand that you may have a busy schedule so we can be flexible in terms of installation dates and times. Be assured that when a synthetic turf installation time has been agreed upon, we'll turn up on time and get the job done as quickly as possible.
Installation Accessories
Accessories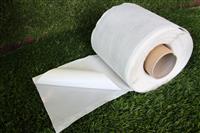 Self Adhesive Joining Tape 150cm x 10m $25 per roll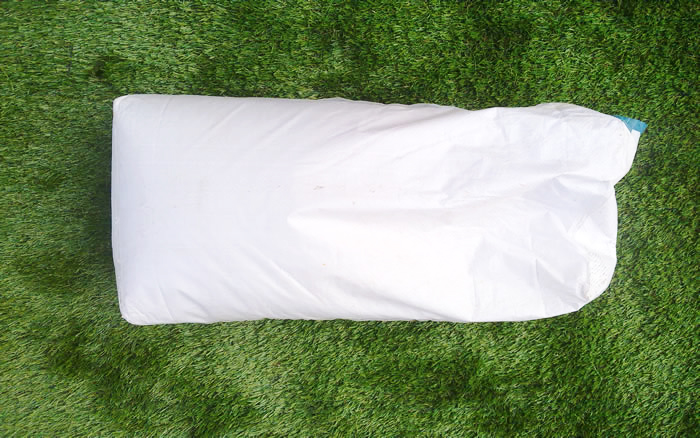 Silica Dry Sand 20Kg $10 per bag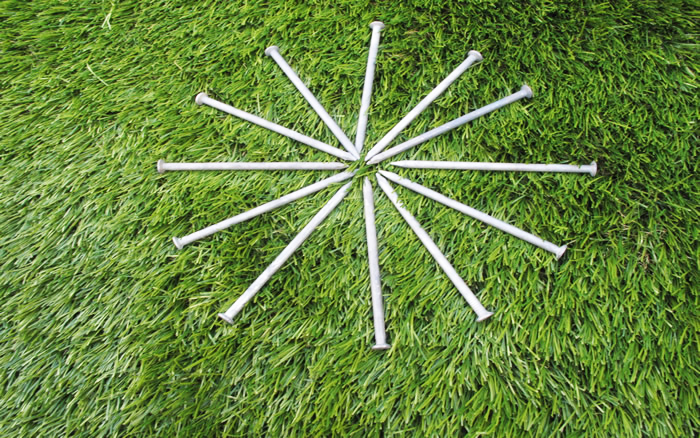 Flat Head Nails 2Kg $12 per box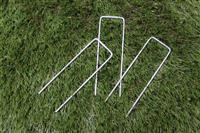 U- pin Qty 50 $15 per bag
Synthetic Grass Installation Guide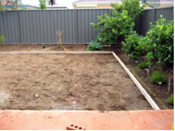 Mark off the area that you want to install the turf with an outdoor spray can marker. Consider the dimensions of your AMAZING TURF (our turfs come in 2 widths, 3.75m & 2.00m after removal of the manufacturing trim which shows our triple backing). Consider these widths when planning the layout as this can reduce the amount of seams required and will save you time and money.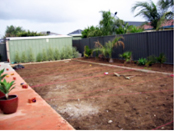 Base Preparation – Ground Cleaning
Remove all debris and approximately 100mm of soil. Ideally, the sub base will be pitched slightly towards the best direction to allow for water run-off. This can be achieved by running string lines away from the property as well as ensuring that you have a appropriate level across the entire area to be laid.
If you find that you are having problems and would like professional help, please call AMAZING TURF 1300 680 817 and we can send one of our installers.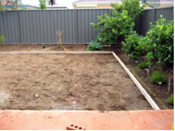 Base Preparation – Edging
Fix edging around the perimeter where your AMAZING TURF will be laid. Cap sprinklers and turn off any water valves. Compact the existing ground with a vibrating plate compactor/wacker. Spray weed/grass killer for optimal results.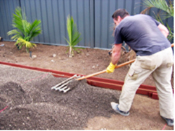 Base Preparation – Crushed Rock
Sub-Base: It is important to ensure the sub-base is completely dry before laying any crushed rock to reduce settling and ensure proper compaction of the surface. Once the sub-base is completely dry, spread and level crushed rock to an approx depth of 80mm. Then compact again with a vibrating plate compactor/wacker.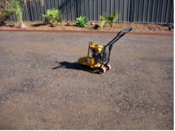 Base Preparation – Crusher Dust
Add a top layer of approx 5 – 10mm of crusher dust, compact with a vibrating plate compactor/wacker.This ensures that you don't feel any large protruding rocks when you walk on your AMAZING TURF.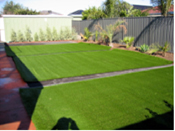 Lay and roll out your AMAZING TURF onto your prepared area. Note: Try to avoid dragging the turf as this may dislodge some of the crushed rock and/or crusher dust surface.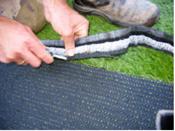 Remove the manufacturing trim.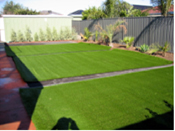 Remove the manufacturing trim.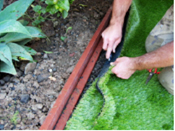 Cut off any turf that is over hanging your edging, always using a sharp blade. Make sure turf is still appropriately positioned.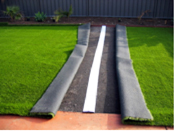 When joining your AMAZING TURF together, be sure to use our self adhesive joining tape, no glue is required. Just peel off the back of the joining tape and press firmly along the join.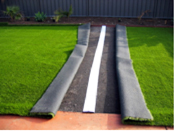 Secure the Grass – Perimeter
Nail all the perimeters down at 300mm intervals using 100mm flat head nails.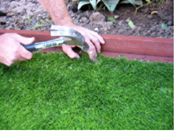 Secure the Grass – Perimeter
Nail all the perimeters down at 300mm intervals using 100mm flat head nails.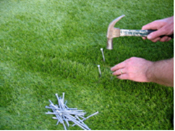 Secure the Grass – Joining tape
This must also be applied to the joining seams at the same 300mm intervals.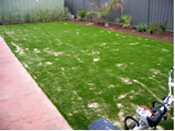 Top dress the grass with an even sprinkling of silica dry sand. A broom can be used at this stage to sweep in the sand evenly and to also brush the grass blades straight and vertical. Approximately three to five kilograms of sand is required for each square metre of AMAZING TURF.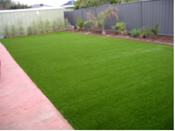 SIT BACK AND ENJOY YOUR AMAZING TURF