Your furry friend's get allergies just like we do and one of those allergies is a pollen allergy.
What is a pollen allergy?  Pollen is a granular, powdery substance in grass. Some of the signs your dog may have a pollen allergy is scratching, licking excessively, rash, red irritation skin, dry patches, and watering of the eyes and nose. If your dog has a severe reaction, it may produce inflammation of the airways and cause restriction resulting in your dog struggling to breathe.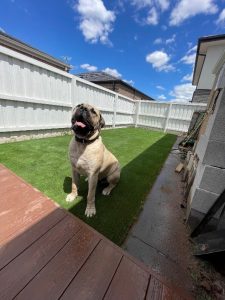 When your dog gets a grass allergy it is caused by the pollen floating through the air, even though we cannot see it. These microscopic spores are absorbed into your dog's skin and nasal passages which can lead to an allergic reaction.
In addition, your dog's fur can pick up pollen as well, not just from grass but other surfaces surrounding the grass that may have pollen on them. This includes the ground outside.
If your dog is partly kept inside, they will bring in the pollen spores inside which will then be on the couch, bedding etc.
How will Artificial Grass benefit my dog?
Apart from being free of pollen, toxins and chemicals, the material from which Artificial Grass is manufactured is also allergy-free therefore you do not need to worry about a pollen allergy or painful dermatitis.
At Amazing Turf, we've developed a total Pet-Friendly range specifically for your furry friends. Pet Spec is anti-bacterial, mould proof and of course, Pet-Friendly, meaning you do not have to worry about your furry friend catching any allergies.
But does Artificial Grass infill affect my dog?
No, your dog will not get allergies from standard infill. However, our Pet Spec range is designed for your furry friends. Being made of natural enzymes it does not contain any harmful chemicals.
Instead of traditional sand which does not have any benefits for your pets, Pet Spec infill is designed to neutralise the smell of your dog's urea in the urine, creating a much more pleasant-smelling environment for you and your pets.
Areas We Serve